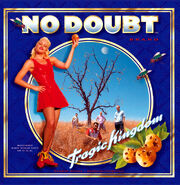 Tragic Kingdom
is the third studio album by the American new wave/ska band
No Doubt
. It was released on October 10, 1995 on Trauma Records, a division of Interscope Records. The album was produced by Matthew Wilder, mixed by Paul Palmer, and recorded in 11 studios in the Greater Los Angeles Area between March 1993 and October 1995. Between 1995 and 1998, it spawned seven singles, including
Just a Girl
, which charted on the Billboard Hot 100 and the UK Singles Chart; and
Don't Speak
, which reached number one on the Billboard Hot 100 Airplay and peaked in the top five of many international charts.
The album received mostly positive reviews from music critics. At the 39th Grammy Awards, No Doubt earned nominations for Best New Artist and Best Rock Album. The album has sold over 16 million copies worldwide; and was certified diamond by the Recording Industry Association of America (RIAA) in the United States and Canada, platinum in the United Kingdom, and triple platinum in Australia. It helped to initiate the ska revival of the 1990s, persuading record labels to sign more ska bands and helping them to attract more mainstream attention. No Doubt embarked on a tour to promote the album. It was designed by Project X and lasted two and a half years. An early 1997 performance at the Arrowhead Pond of Anaheim was filmed and released as Live in the Tragic Kingdom on VHS and later DVD.
Singles from Tragic Kingdom
Edit
1. Just a Girl - Length of song is 3:26 -
2. Spiderwebs - Length of song is 4:27 (Album Version); 3:50 (Radio Edit)-
3. Don't Speak - Length of song is 4:23 -
4. Excuse Me Mr. - Length of song is 3:04 -
5. Sunday Morning - Length of song is 4:33 (Album Version); 4:14 (Radio Edit)-
Ad blocker interference detected!
Wikia is a free-to-use site that makes money from advertising. We have a modified experience for viewers using ad blockers

Wikia is not accessible if you've made further modifications. Remove the custom ad blocker rule(s) and the page will load as expected.