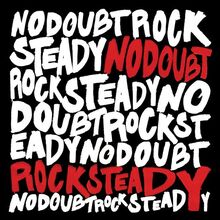 One of No Doubt's biggest album was Rock Steady. Rock Steady (2001) has many hit tracks such as Hella Good, Hey Baby (Which won a Grammy in 2003), Underneath it all, and more. Rock Steady is No Doubt's last album before breaking up in 2002. They later joined again in 2012 to create the new album Push and Shove. The band-mates traveled to Jamaica and London to work with other musicians, that may seem obvious if you've heard the hit song, Underneath it All. Singer, songwriter, Gwen Stefani, wrote about her relationships with Gavin Rossdale. Although they have three kids together, Gwen and Gavin are currently broken up.
Songs:
Intro (Rock Steady)
Hella Good
Hey Baby
Making Out
Underneath it All
Deceive
Don't Let me Down
Start the Fire
Running
In my Head
Platinum Blond Life
Waiting Room
Rock Steady
Ad blocker interference detected!
Wikia is a free-to-use site that makes money from advertising. We have a modified experience for viewers using ad blockers

Wikia is not accessible if you've made further modifications. Remove the custom ad blocker rule(s) and the page will load as expected.